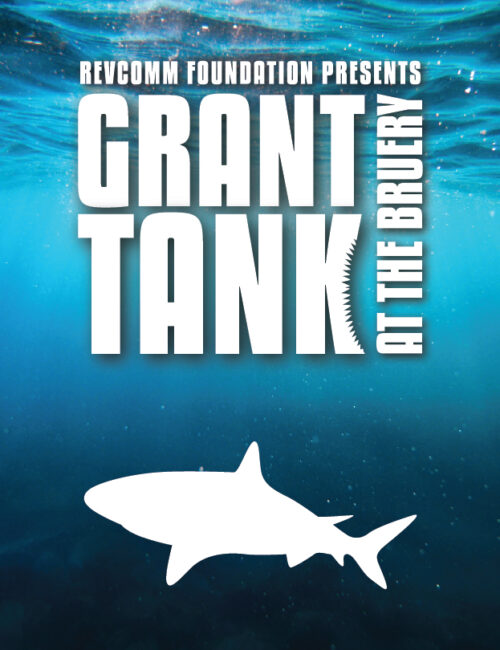 Grant Tank at The Bruery
RevComm Foundation is excited to host Grant Tank at The Bruery on Thursday April 27th at The Bruery's incredible outdoor tasting room – located in beautiful northern Orange County within the rich heritage of Placentia. Their amazing outdoor space provides a great atmosphere to spark conversation over delicious hand crafted beer.
Join local philanthropic investors, business leaders, entrepreneurs, and passionate community changemakers for the inaugural Grant Tank event presented by RevComm Foundation. During this fun and unconventional spin on ABC's hit show Shark Tank, RevComm Foundation will invite local nonprofit organizations to pitch their mission and vision to an audience and most importantly an assembly of generous philanthropic "Sharks". This interactive event will give nonprofit organizations a chance to secure the funding needed to further their mission.
Founders Crystal and Daniel along with the dedicated Board of Directors will provide you with an introduction of what RevComm Foundation is doing to level the playing field for nonprofit organizations. Come prepared to hear about the great work that is being done in and around your community. Enjoy an evening filled with dinner, beverages, and great conversation amongst fellow philanthropists. Most importantly of all, as an attendee of RevComm Foundation's inaugural Grant Tank event, both attendees and sharks will have the opportunity to support and fund 6 selected nonprofit organizations through an exciting "fast pitch" event.
How you can be involved...
Our Sharks are the VIPs of the event, they will sit front and center as chosen organizations pitch their mission and programs. Sharks will additionally be given the opportunity to have 1:1 conversations with each nonprofit prior to determining whom they choose to fund.
Guests will be in the audience alongside Sharks to hear each agency "fast pitch" about their mission and programs. Enjoy an evening promoting a philanthropic atmosphere and join the FUNding by casting a vote for the "People's Choice Agency" who will receive 50% of ticket sales.
Tickets include a food truck dinner, snacks, and two drink tickets. Additional beverages can be enjoyed with purchase.
Purchase your ticket today:
Help make this one-of-a-kind event come to life by supporting event overhead. As a 100% volunteer-led organization, we can ensure that all funds raised during this exciting event are reinvested back into the community. Gain philanthropic recognition within your community while also supporting nonprofit organizations still in the early years who are so often overlooked by traditional funders.
As part of your corporate social responsibility, consider a partnership with RevComm Foundation. You'll align your business with a local nonprofit that is transforming lives in your own backyard and changing the future of nonprofit funding and resources. Custom sponsorship opportunities are also available – contact us at sponsorships@revcommfoundation.org today!
As a nonprofit – come ready to tell the audience about the great work you are doing, the community you serve and the change you are making. Enjoy an evening filled with dinner, beverages, and great conversation amongst fellow philanthropists. Most important of all, take the opportunity to pitch to our panel of sharks and audience to fund your mission through a fun and unconventional spin on ABC's hit show Shark Tank.
Expectation
Let us hear the need! RevComm, Sharks and audience members will be all ears as selected organizations are provided 5 minutes to tell us who they are, what they do, why they it do and how they do it. We encourage organizations to bring 3 great speaking team members that will help put your best foot forward while providing data, examples and testimonies about the organizations mission and programs. Be ready to explain yourself – Sharks will be given 20 minutes to mingle with nonprofit organizations, providing them 1:1 time to ask questions that may help in their decision making.
Focus Area
RevComm Foundation is proud of its mission-agnostic approach, meaning we do not restrict funding to specific focus areas. If your organization meets our guidelines, does not provide services on the exclusion list, and fosters community impact, we encourage you to apply and look forward to learning more about your mission.
Guidelines
The following criteria is needed to qualify: organization must have obtained 501(c)(3) status less than 10 years ago, have less than $500,000 in annual revenue, be Southern California based and promote diversity equity and inclusion. Unfortunately political organizations, medical research, religious based organizations, capital/building campaigns, sports teams, sport competitions, foundations or granting organizations, galas, fundraising dinners and events will be excluded from selection.