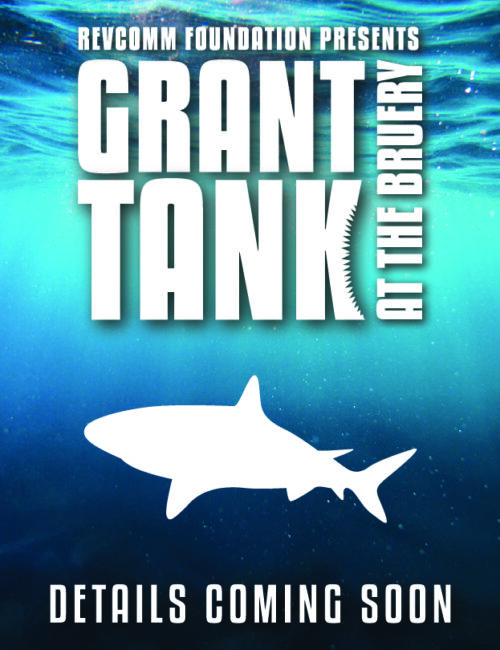 Grant Tank at The Bruery
Join local philanthropic investors, business leaders, entrepreneurs, and passionate community changemakers for the inaugural Grant Tank event presented by RevComm Foundation. During this fun and unconventional spin on ABC's hit show Shark Tank, RevComm Foundation will invite local nonprofit organizations to pitch their mission and vision to an audience and most importantly an assembly of generous philanthropic "Sharks". This interactive event will give nonprofit organizations a chance to secure the funding needed to further their mission.
Founders Crystal and Daniel along with the dedicated Board of Directors will provide you with an introduction of what RevComm Foundation is doing to level the playing field for nonprofit organizations. Come prepared to hear about the great work that is being done in and around your community. Enjoy an evening filled with dinner, beverages, and great conversation amongst fellow philanthropists. Most importantly of all, as an attendee of RevComm Foundation's inaugural Grant Tank event, both attendees and sharks will have the opportunity to support and fund selected nonprofit organizations through an exciting "fast pitch" event.
Learn more about the 2023 Nonprofits
Aquamotion Ability Foundation
is dedicated to helping transform the health and well-being of senior citizens and disabled individuals within the Inland Empire through a high quality water aerobics program that provides guidance and training that supports a healthy lifestyle. As a nonprofit their mission is to help every senior citizen and person with a disability learn about the power of water aerobics through low cost and scholarships.
Chingona Community, Inc.
is a nonprofit organization dedicated to empowering women. The Chingona Community and its practices incorporate resilient and unstoppable females doing good for themselves and in conjunction with its members. Program services focus on building business connections, training and development, while cultivating diverse initiatives that concern all women regardless of background or race.
Thundar, Lightning and Peace
was established to help Veterans with trauma. At 16, Sam decided to ACT and establish the organization to advocate for the millions of Veterans who no longer feel they have a purpose. Thundar LP is a need-based organization, allowing flexibility to provide support where it is most needed. Recent initiatives include: Blankets for Vets, Medic Bags 4 Warriors, and Dogs 4 Vets.
Underground GRIT
provides a voice to men, women, and youth who been impacted by the system and who are breaking cycles perpetuated by trauma. Through personal and professional experiences, they recognize the gaps in our system, and the needs of our most vulnerable individuals and families. Underground GRIT provides holistic mental health services and career development for incarcerated youth, both pre-release and post-release.